A high quality goose dog is the most humane and effective way of dealing with nuisance bird management issues. Border Collies are highly intelligent, trainable dogs that herd the geese with enthusiasm which quickly persuades the most stubborn bird that they need to find another place to live.
Goose management using Border Collies
Why use Border Collies for hazing?
Border Collies are known for their persistence and willingness to work. They never tire of the job and can keep going long after we wish to stop. Our goose dogs stalk the geese using 'eye'. Eye is only found in the Border Collie, the hard stare and posture of the dog unsettles the geese as it believes a predator is present. The geese perceive this as a genuine threat and therefore are encouraged to move on somewhere safer to nest and raise their goslings.
If the geese just move into the water off the land then our dogs are sent in swimming ! The geese soon learn their only option is to move on.
The hazing technique is humane to the geese and our goose dogs work quietly and unobtrusively. This means no pesticides, no environmental issues and no loss of enjoyment of the land or facility by the public or paying patron.
Why purchase from Asset Kennels?
Asset Kennels has developed excellent blood lines to provide the customer with quality goose dogs. We understand the relationship between of how the trained dog (predator) and goose (prey) relationship works and applies this to the training of the dogs and their abilities. |I have been breeding and training dogs for over 20 years
We have sold dogs and puppies to individuals, pest management companies, golf courses, cities and waste management companies, Our dogs currently working in AZ, NJ,NY,MI, NC, OH and  Ontario.
As we breed our own working stock dog are available from 8 weeks onwards.
You can purchase a puppy at 8 weeks, a started dog (approx 1-2 year old) or an experienced dog 3+ years old. These dog will have been bred with goose hazing as their main line of work.
Purchasing a goose dog as a puppy is becoming a popular method with great success. The pup spends the first six months living with its new owner and family adjusting to family life. Encouraging prey drive at this young age will assist the pup in future work.  At approx 9-12 months of age it is returned here to the kennel for 3-4 weeks where she will learn and her grow her herding skills before returning back to the owner.
A started goose dog has remained here at our facilities whilst growing up and learning herding skills. When sold they will understand their job and know they are to move on geese. They will need some time to adjust to their new home which they quickly do so as the work is their primary reward.
An experienced dog has spent several seasons out in the field. They are used to working in public place and often accept a change of handler as a matter of their job. With age comes experience!
We also offer consultation on setting up your business and provide lifetime support for your new goose dog.
Woof
Callie
Lass
Missy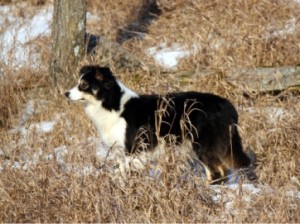 Jamie
We believe in quality not quantity and the above dogs are producing outstanding working goose dogs.
We also provide assistance for geese management set up available.