The love of a dog is something special and unique. With the amount of pure joy, happiness, and devotion they bring into your home, it's no wonder they're one of the most popular family pets in the world.
At Asset Kennels, we breed beautiful border collie puppies and miniature American shepherd puppies for sale in Nova Scotia. We work tirelessly to ensure our puppies go to the right forever homes so everyone can experience a dog's unconditional love.
Border Collie Puppies for Sale in Nova Scotia
The border collie puppies we breed are some of the best quality dogs in Nova Scotia. In our seven generations of border collies, we've focused on producing litters with excellent temperament, health, trainability, and the most desirable physical traits. They meet the full breed standards according to the AKC, CKC, and KC.
Border collies are a herding breed that needs plenty of exercise, training, and stimulation. With their brains and unyielding loyalty, you're in store for many adventures when you bring one home.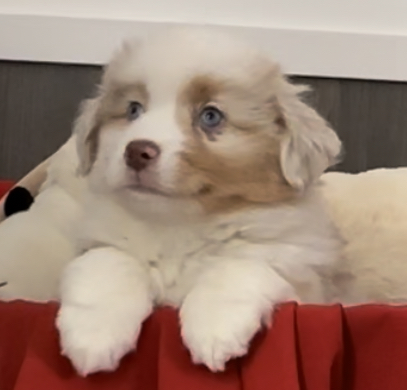 Miniature American Shepherd Puppies for Sale in Nova Scotia
If you're looking for an intelligent and energetic companion that's just a little smaller than the border collie, then one of our miniature American shepherd puppies for sale could be right for you. Like border collies, they're highly active, loyal, loving, and great with children, making them perfect for any family.
Asset Kennels miniature American shepherds meet and exceed breed standards and are also bred for optimal health, temperament, trainability, and appearance.
Why Asset Kennels
Of all the border collie breeders and miniature American shepherd breeders in Nova Scotia, why choose Asset Kennels? Because we're not just running an exceptional breeding program—we're raising a family of happy and healthy puppies.
We treat all our pups and breeding dogs with the highest level of attention, showering them with love and affection from the moment they're born. We get to know our puppies down to every spot on their coats.
Our border collie and American shepherd puppies receive the best care, plenty of fun and socialization, and everything they need to thrive in their carefully chosen forever homes.
Are you ready to welcome an Asset Kennel border collie or miniature American shepherd puppy into your family in Nova Scotia? Reserve an available puppy from our next litter today!