Our New Best Friend!
We purchased our beautiful Shenaynay from Asset Kennels last year after losing our last border collie unexpectedly. We are in love with this new puppy and working with Heather was a dream come true at a very difficult time in our life. We are VERY thankful for her bringing Shenaynay into our lives!
Mark Amodeo
Not Just Another Dog!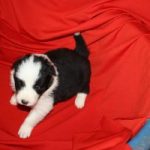 Check out this Hot Dog! Best Border Collie! Many Props to the breeder Heather from Asset Kennels!
Mark Amodeo